Housmans – radical booksellers since 1945
_________________________________________
TALK
'Thank You Greenham'
with Kate Evans, Frankie Armstrong and Rebecca Johnson
_________________________________________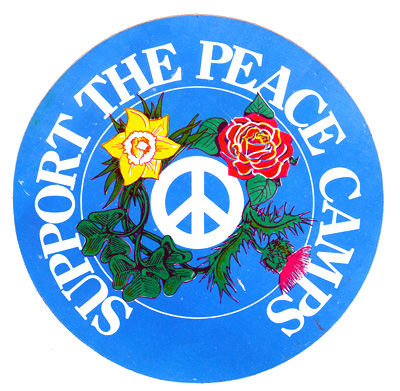 In 1982 headline news of 30,000 women 'encircling' the US base at Greenham Common shook the nation out of its paralysed fear of preparation for nuclear war in 'the European theatre'. Soon a photo of women dancing on the weapons silos at dawn on New Years Day went round the world. Fear turned to action as, inspired and encouraged by the women camping there, 'Greenham women' began doing direct actions up and down the country, changing the pattern of protest and their lives as well as the nuclear climate.
This evening Kate Evans will be launching her personal memoir of Greenham, alongside fellow Greenham activists.
Frankie Armstrong is a singer with over 40 years in the folk, women's and peace movement. From the early days of the Vietnam War, to last month's concert for Musicians Against Nuclear Arms, she has sung to raise spirits and awareness.
Rebecca Johnson was a Greenham camper and activist, and has worked in the anti-nuclear field for 25 years ; she will relate Greenham to current feminist antinuclear activity.
_________________________________________
Event information
Wednesday 24th September 2008 – 7.15pm
Housmans Bookshop
5 Caledonian Road
King's Cross
London N1 9DX
Tel: 020 7837 4473
Free entry
Nearest tube: King's Cross
shop email: shop@housmans.com
map: http://tinyurl.com/2oq9vv
"Support the shop that supports your campaigns!"