Monday March 25th is the national demonstration against privatisation being held at the University of Sussex. We'll edit this post with updates throughout the day. Also keep an eye on the comments for the latest, and the #Mar25 hashtag on twitter.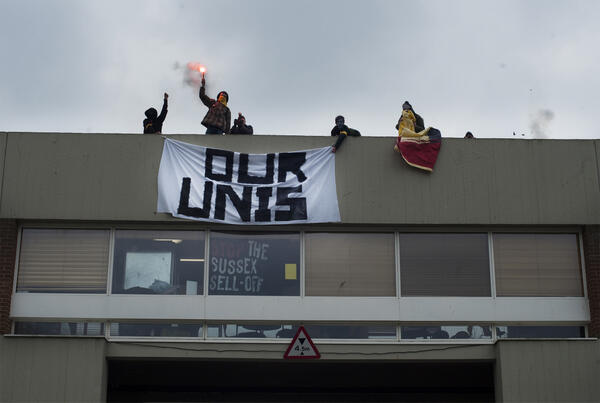 From @Kate_Trevor
16.15 We are ending our coverage of the #Mar25 events for now. Thanks for reading and your help on Twitter, read below for a sense of whats been happening at Sussex University today and check back later for more reports and analysis.
The occupation has grown and at this moment there is an assembly of over 300 people on the top floor of Bramber House (the first building occupied in Feb 2013) which is fleshing out what happens next. Already today has seen the launch of a new pop up union made up of rank and file members of existing campus unions who want to push the struggle forward. More on that later too.
For more updates from today suggest you follow #Mar25 on Twitter.


From @thebadgernews
16:00 As assembly of students gets under way in occupied building @theBadgerNews reports of doors locked and large police presence in the building itself.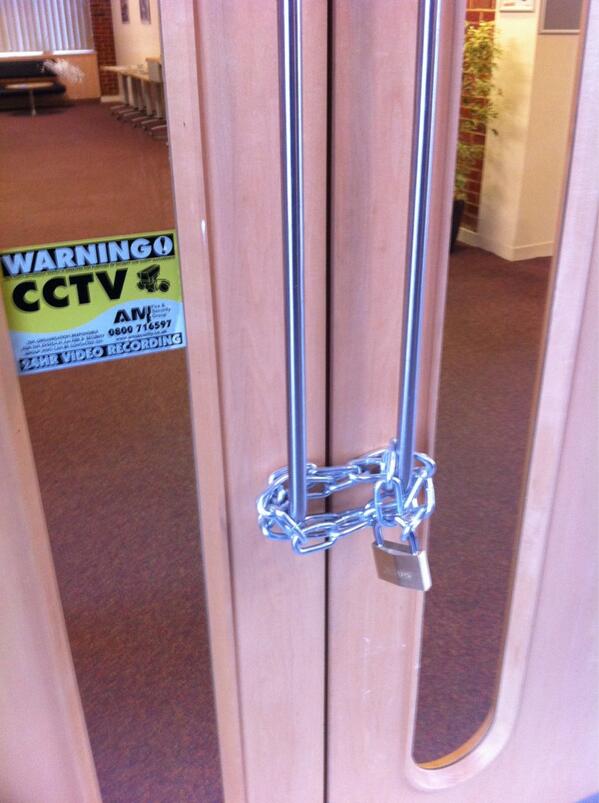 Seems clear that protestors are now being allowed into occupation, doors are locked but occupiers are letting people in from @thebadgernews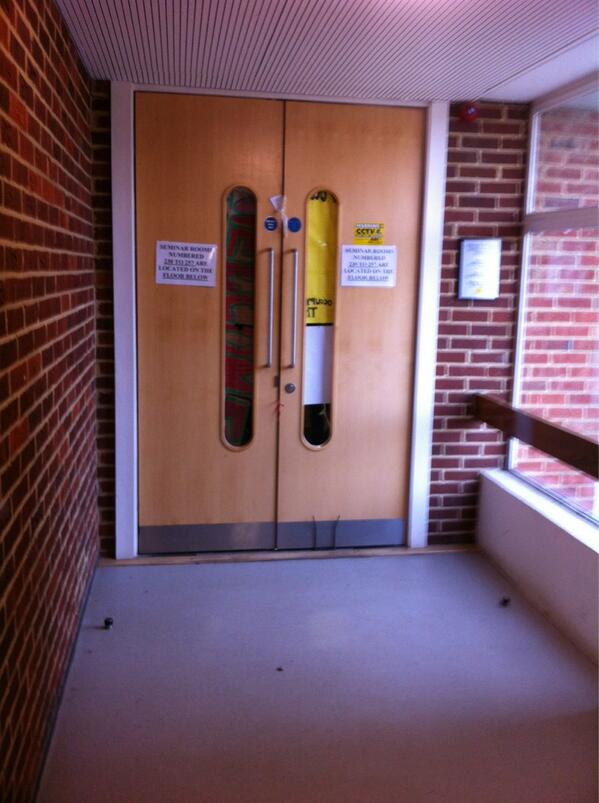 15.51 With the situation calming down outside the occupation of Bramber House bolstered, @occupy_sussex tweets that the occupiers are now preparing for a mass meeting with over 650 people present over what comes next.

@M_Prescott
15.40 @occupy_sussex tweets to let everyone know that occupation has now taken top floor of Bramber House.
Police Liaison Officers have been seen trying to access the occupation with dubious claims of safety concerns.
@TheBadgerNews has been doing an amazing job of keeping reality in focus today on the ground at tweets to confirm that what made it into the bonfire was not dissertations as was being touted on Twitter by detractors and students who dont seem themsleves as aligned with occupiers.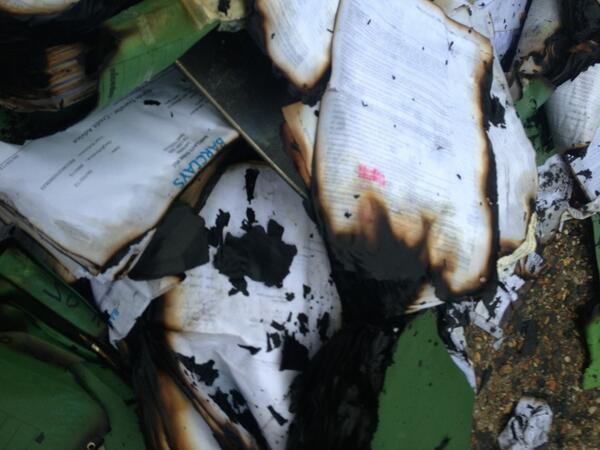 Now, get over it.
15.30 Internet reports are being marred by people attempting to make bizarre defences of property whilst detracting from protestors with their tedious dialogue. It seems so easy to repeat the cliches about broken windows and become bogged down in a boring narrative of protestors vs protestors. When reports from the ground say the demonstration has been peaceful, rowdy and joyous (@JosephKay76)
Meanwhile police have surrounded the once occupied management building, to stop it being re-occupied.
Protestors have moved to Bramber house in order to reinforce occupation there. Occupation seems to have spread throughout the building which is a conference centre.
15.21 Some photos from the the roof do occupied Bramber House

@Righttoprotest
15.15 Small bonfire being put out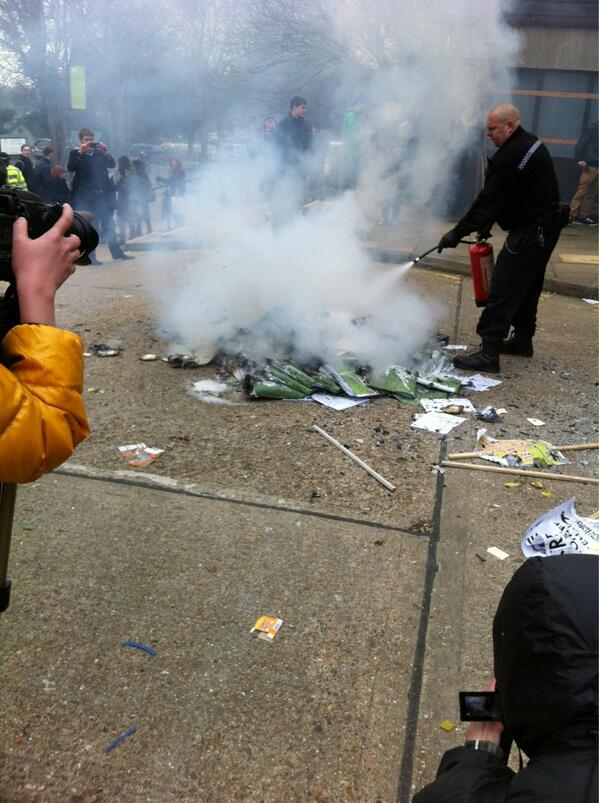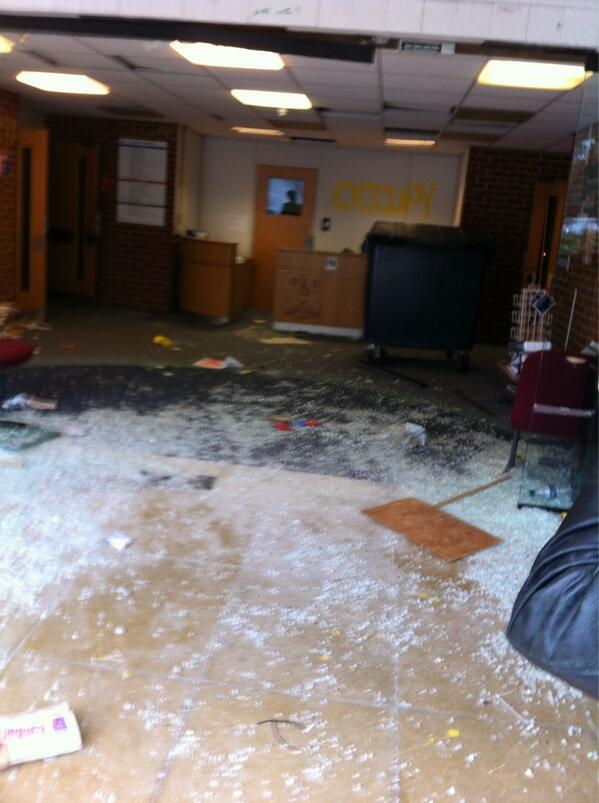 The scene at Sussex house
Both images @TheBadgerNews
15:10 Fireworks seen and heard on campus as protest picks up, police apparently surrounding site of original occupation at Bramber House which were people are not allowed in to support the occupation.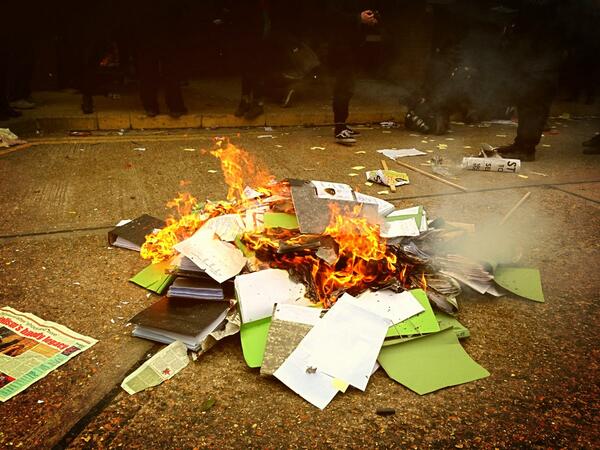 Documents on fire outside Bramber House from @occupy_sussex
Correction: burning documents left behind at management building according to @JospehKay76 as students move to Bramber House which is threatened with eviction.
15:05 Occupiers are leaving occupied management building and heading to reinforce occupation at Bramber House (site of original occupation). Low police presence reports @HaircutsBTP
Security are apparently restricting access into occupation, people only being allowed out.
@JosephKay76 reports that documents seized from management office are being burt.
14.45 Police reported to be inside Sussex House, main admin building on campus and home to management which was barricaded last night by the University. Situation unclear. Alarms are still going off in the building.
Reporter for Vice UK on the ground at Sussex"
"About 300 protesters inside the management building, cops looking ready to storm in, barricades have been set up." from @Hengry_Langston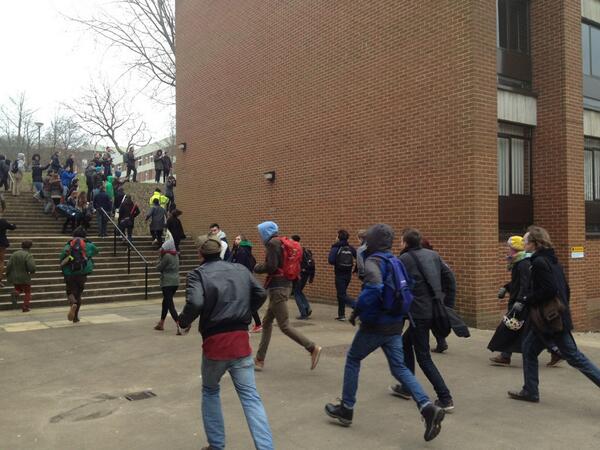 @TheBadgerNews
14.34 Reports that some protestors are heading back to Library Square. After a lull movement seems to have picked up again. Part of campus seems to be blockaded in attempt to stop police entering, some protestors are headed back to aLibrary square whilst Sussex House remains occupied.
14.30 @HaricutsBTP tweets photo of the door which was in the way of Sussex occupiers moving into Sussex House.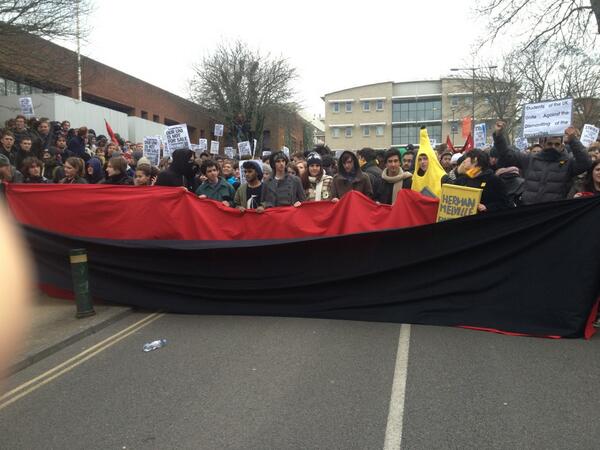 @TheBadgerNews with images of students protecting the march
Protestors are apparently in the VC's office.
14.24 @ThebadgerNews reporting a calming of tenions between police and protestors. Protestors had formed a line to protect themselves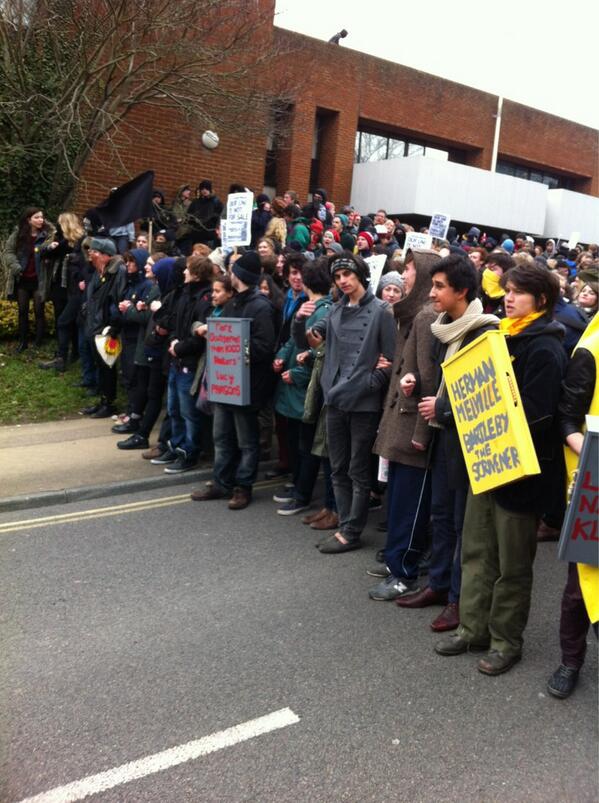 @Jo_cee17 tweets that as police retreated, protestors were able to occupy Sussex House.
14.16 Police seem to have been pushed back, but possibly regrouping and arming themselves for further confrontation.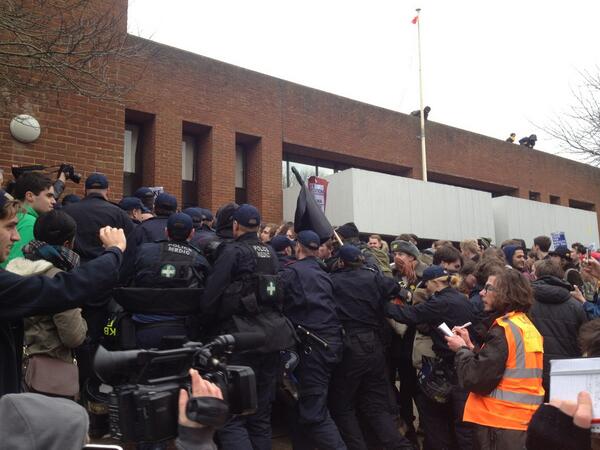 @theBadgerNews
Banners dropped from roof of Sussex House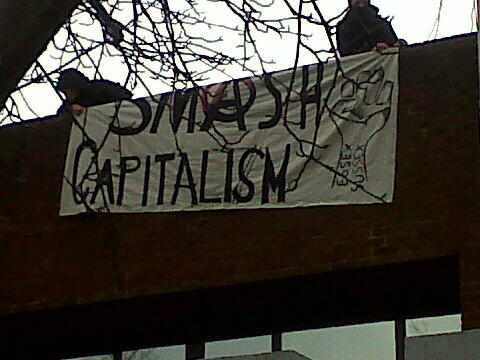 @ThereziaCooper
14.09 Reports from the march gathering at Sussex House that riot police have moved in and there is some mention of a window being broken.

@MissGullible
@SanjeeDah reporting that crowd chants "Off our campus" at police.
Many years it was unheard of that police were found on campus and any encroachment was widely resisted. Now it seems the norm that they should be there.
@JospehKay76 reports police have attacked protestors. While others mention that police have been surrounded by protestors.
13.59 The march has arrived at Sussex House, the main administration building on campus home to management which has been barricaded the night before.

@chrisjpostle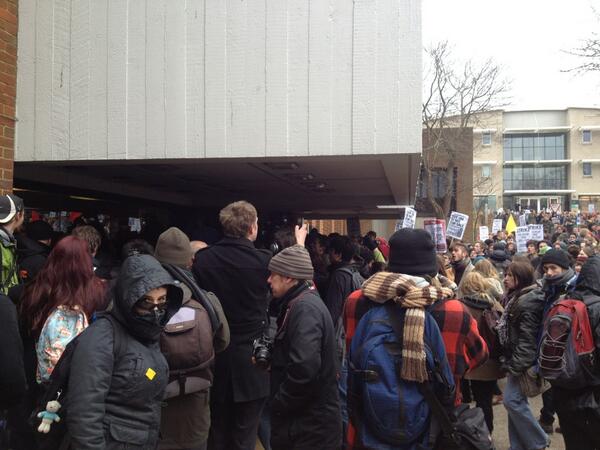 @theBadgerNews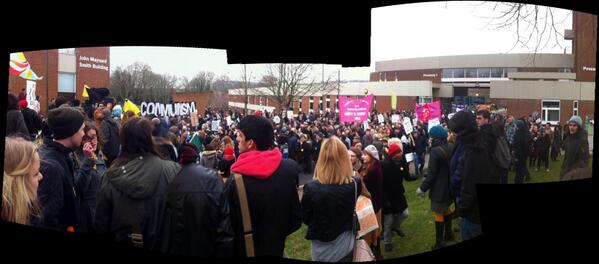 @ShelleyAsquith
13.54More photos from the march coming in on Twitter...

Police on campus @IzzyKoksal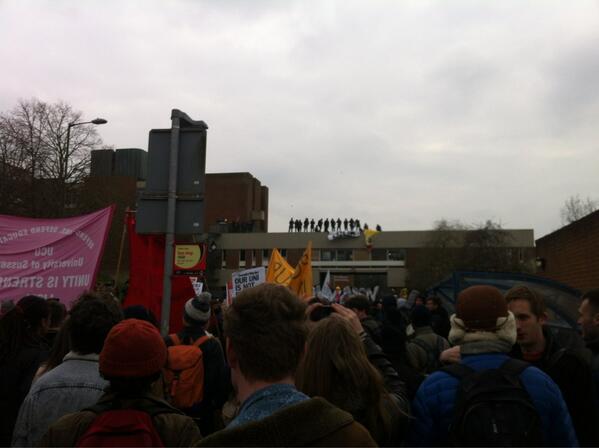 Supporters on the roof of a bridge @thinktyler
Meanwhile @thebadgernews is reporting that local busses are being turned away from campus.
13.45 The demo has moved off and is now fully mobile.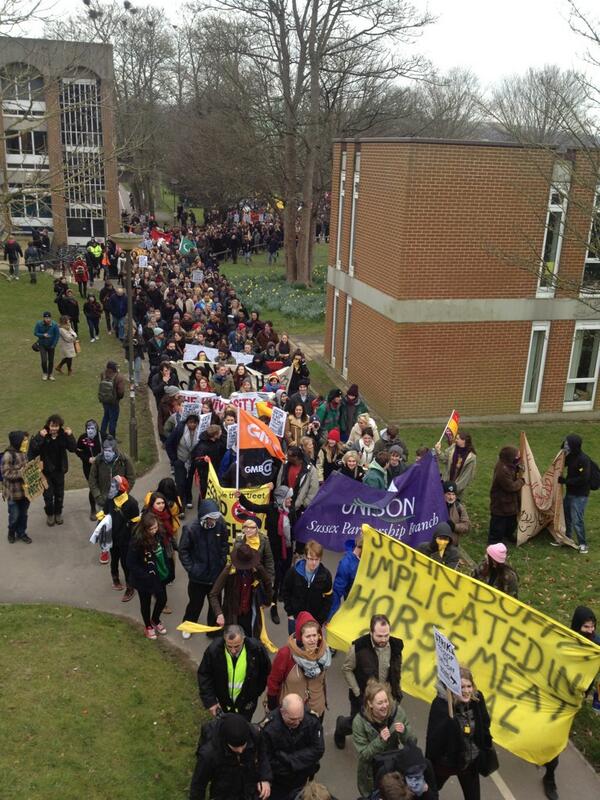 March from @thebadgernews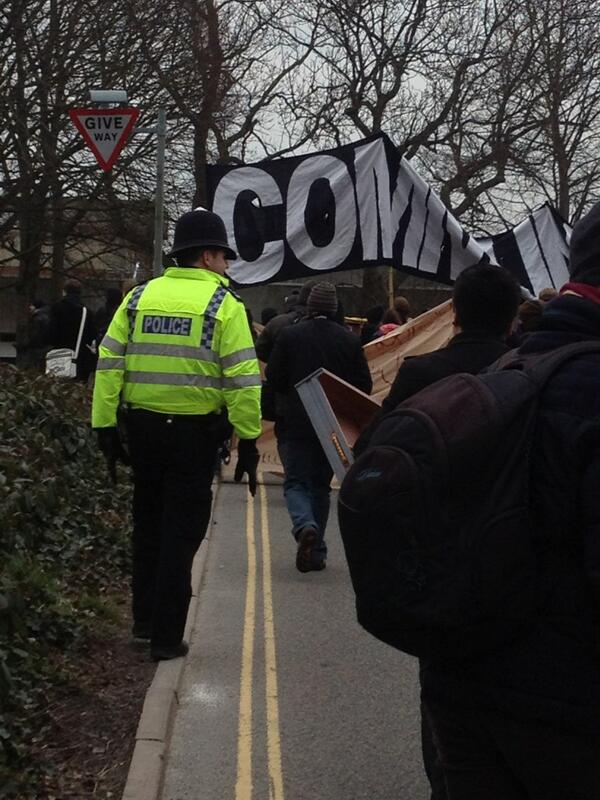 Police on campus from @thebadgernews

@MissGullible

View from the occupation by
@KeremBrulee
13.34 @TheBadgerNews reporting on Twitter that Labour MP Katie Clarke is boo'd and heckled during speech by some protestors. Last week Labour was widely denounced for helping a bill on Workfare through the House of Commons.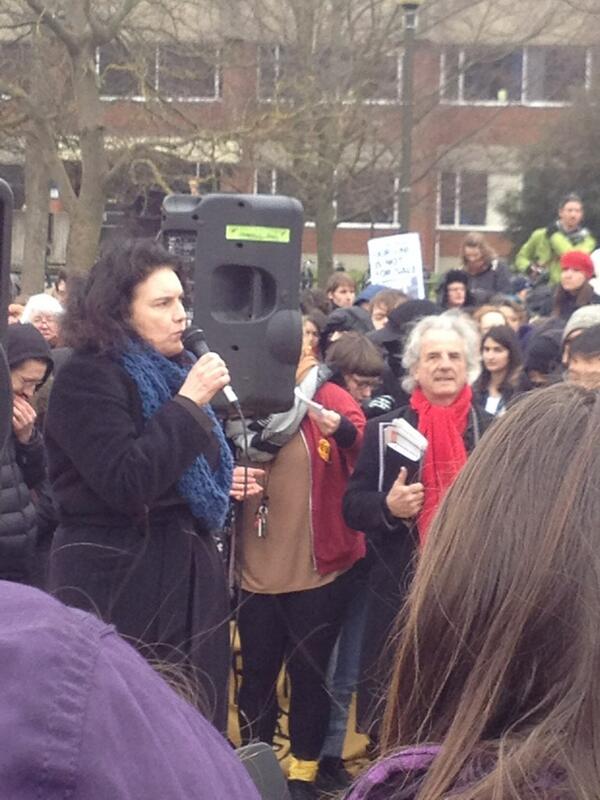 Labour MP heckled during speech from @TheBadgerNews
Twitter commentary focussing on one hand of people calling hecklers "divisive" to the moment, the same old arguements countered with the fact that people point out that protestors don't need support from MP's who do nothing and turn up at the last minute.
13.28 Banner drops from roof as march gets ready to head off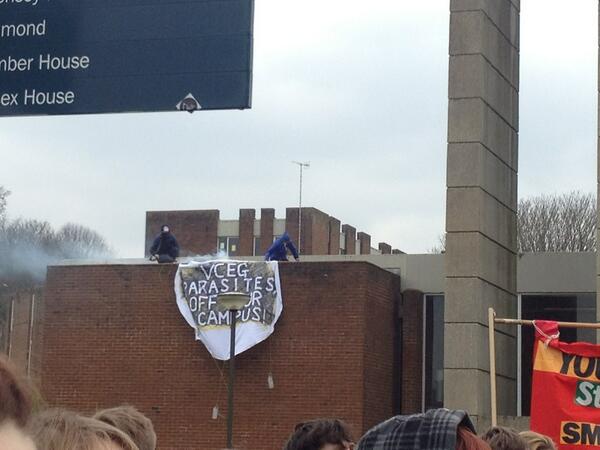 "VCEG parasites off campus!" from @TheBadgerNews
13:23 Speeches taking place in Library Square and the occasion is marked by the launch of a new 'pop-up union' in a bid to halt the outsourcing of 235 jobs on campus in a collaboration between the rank and file members of three unions on campus along with students. This appears to be an attempt to move past the existing methods of communication on campus and create common ground to push the struggle forward by people frustrated by the traditional unions involved. More at http://popupunion.org/.
13:10 Photos coming in from Library Square where @JosephKay76 writes there must be over 1000 people gathering...

@ashworth_jess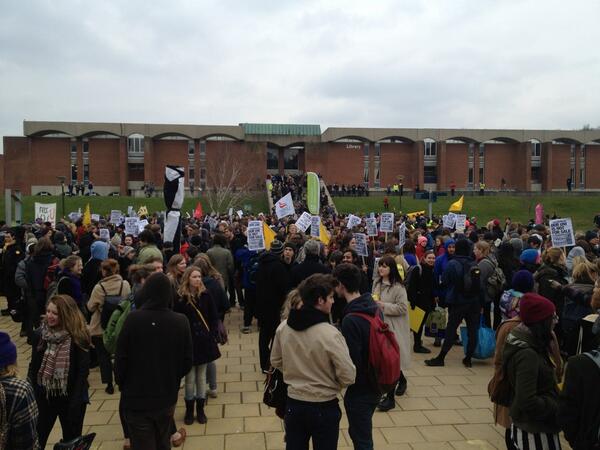 From @CommsUSSU
13:00 The main event of the day is due to kick off at 1pm, as reports come in from Twitter of crowds gathering on campus.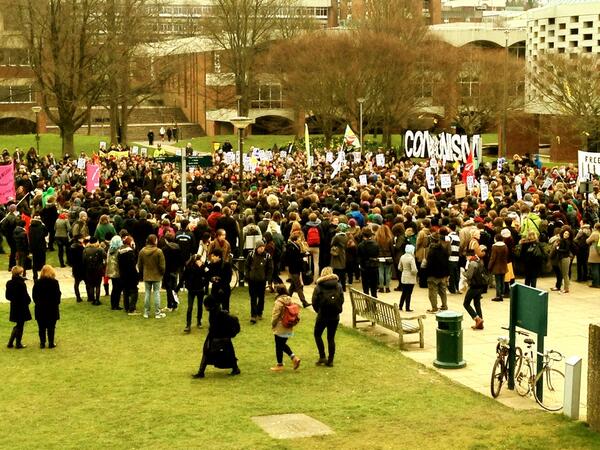 From @occupy_sussex

Photo from @MsVicButcher

Police gathering for Sussex demo from @AbigailDombey
12:49 - Rumours are circulating online suggesting university registrar John Duffy (see earlier updates) has resigned. As these are rumours you might want to contact him to check -
Email:

Telephone numbers
Internal: 3814 or 8903
UK: (01273) 873814 or (01273) 678903
International: +44 1273 873814 or +44 1273 678903
12:34 - Coaches from other universities have started to arrive with the Sussex student paper reporting they're from the University of East Anglia and London universities. Security are preventing visiting students from using the facilities according to @lukeaneal:
Just got off the coach and security wouldn't let me go for a wee @occupy_sussex #mar25
12:18 - Somebody has been busy making a book bloc...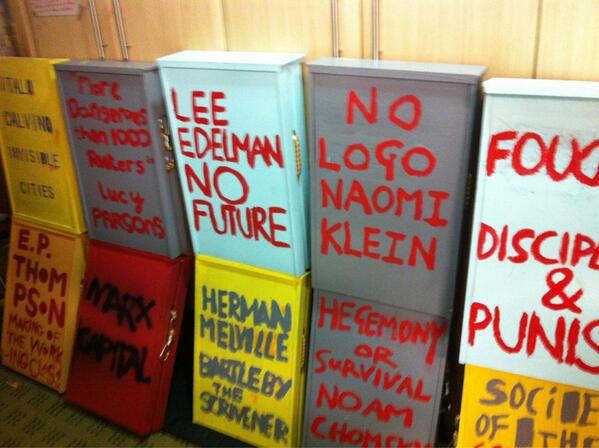 12:18 - Looks like today is going to be big! Coaches from London almost at Sussex University. @Sian__Watson tweets:
@occupy_sussex almost there! UCL coachs are packed. #Mar25
12:09 - @TheBadgerNews tweets:
And the sign up. #Mar25

11:40 - All five of the cafes on campus have now been occupied by students and closed following the closure of the library cafe.
11:26 - Remember folks, today isn't due to start until 1pm. See you in Library Square!
11:25 - @occupy_sussex tweets:
Jubilee cafe occupied. Buzz of excitement in campus @SussexUni #Mar25

11:20 - Dhaba cafe now also shut down. Quote from staff "we're not going to miss this demo".
11:14 - Looks like a spontaneous student shut-down of campus cafes. Staff are thanking the students and taking the day off. @occupy_sussex tweets:
Jubilee cafe is occupied and shut. Staff again thank the protestors. #Mar25
11:11 - Bridge Cafe also occupied and shut down. Staff reportedly thanked the occupiers for the time off.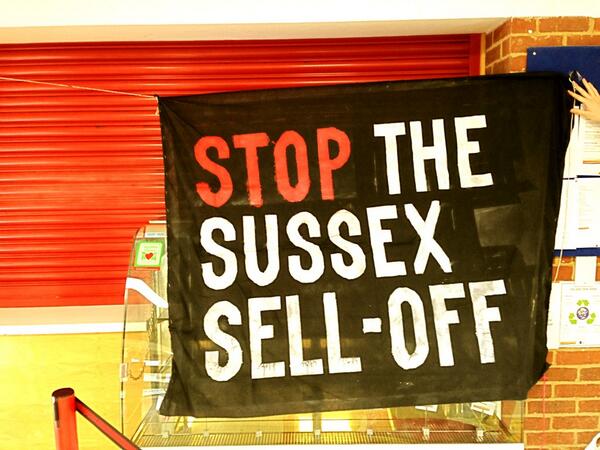 10:49 - Sodexo are rumoured to be one of the bidders for the catering contract. Not if we can help it.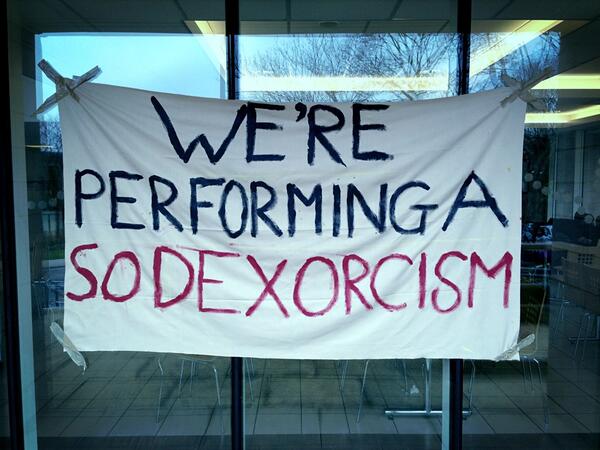 10:45 - @thinktyler tweets:
#Mar25 has started. Medical Block cafe occupied/blockaded #Mar25
10:38 - According to reports on Twitter, the BSMS (medical school) cafe has been occupied.
10:18 - John Duffy's been busy. He's also sent a letter to staff in Sussex House described as "full of lies and fear mongering as per always" by occupiers. In the confirms the bars on Sussex House windows "are designed to limit access through windows. We will remove them as soon as we judge they are no longer necessary." Scared much?
10:00 - @undersided tweets:
uni bosses forced to close 2 cafes, a bar, a restaurant, a bank, and a whole seminar building. fuck yeh. Shut down the factory #Mar25
@LigeiaMare adds:
Management have just announced that the 2 most profitable cafes on campus are closed today because of #Mar25 :) shutting down their own uni!
09:52 - University Registrar John Duffy has reportedly been on the radio complaining that occupiers did not consult him on plans to bring 'outsiders' onto campus. This is the same John Duffy whose proposals to bring 'external partners' onto campus were advertised in a journal before staff were even informed. A textbook example of irony, so he's being educational at least. Mr Duffy has form for being a prize cunt. In 2010, he perjured himself in the High Court in order to obtain an injunction against a student occupation, falsely claiming he was being held hostage. Students compiled a dossier refuting his fabrications here.
09:47 - Bramber House - where the occupiers are on the top floor - reportedly now on lockdown. Private security are IDing people on entry.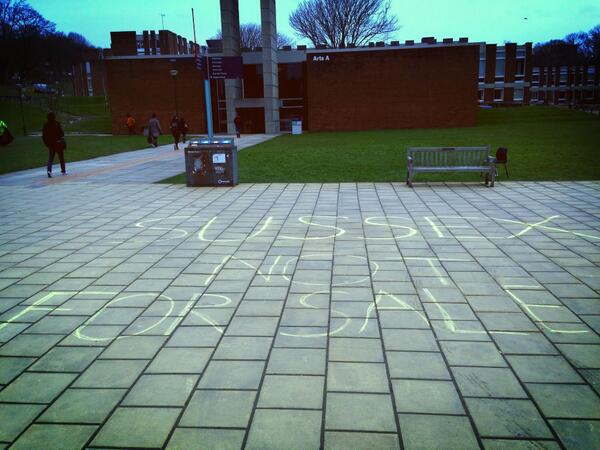 09:10 - The #Mar25 hashtag is starting to buzz with anticipation. So far we've learned that there were no dawn raids (yay), some people have come packing yellow face paint, and there are yellow swings hanging from trees on campus. Yellow has become the colour of the campaign, with students and staff wearing yellow squares inspired by the Québec student movement. Staff across campus have been showing their support for the anti-privatisation campaign by putting yellow paper in the windows. Most buildings on campus have some: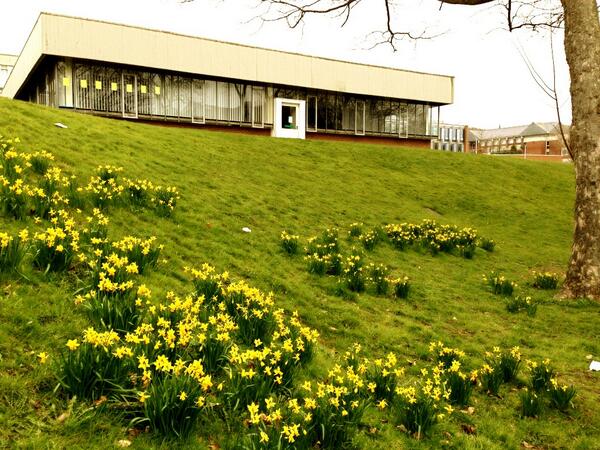 08:02 - University management have been stepping up a campaign of dirty tricks against the anti-privatisation movement in the run up to this demonstration. Last week, 'an anonymous source' called in fire safety officers in a failed bid to close the occupation on safety grounds. Subsequently the popular Meeting House venue was closed due to phantom 'flooding'. Management then removed the shower heads from the showers occupiers had been using. But despite the bungled clampdown, today's demonstration looks set to be big. Last night @occupy_sussex tweeted:
With students from across the county already in the occupation prepping for #Mar25 including London, Exeter, Manchester, Essex and Bristol
Also last night, wooden barricades were constructed around management's offices: