The one thing that everyone can agree on about the situation in the Kurdish areas of Syria is that it is complicated.
Here's a list of the most informative writings on the subject from a wide range of political views: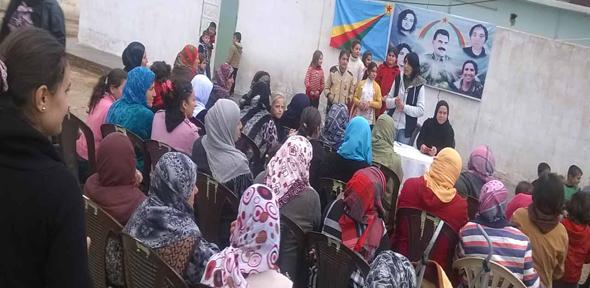 An assembly meeting in Rojava
EYEWITNESS ACCOUNTS
'The experiment of West Kurdistan' - Zaher Baher
'Starting from the moment of coercion' - Becky for SIC International Journal of Communisation
'Poor in means but rich in spirit' - Janet Biehl
'No. This is a Genuine Revolution' - David Graeber

'Flight of Icarus? The PYD's Precarious Rise in Syria' - International Crisis Group

'Kurdwatch.org, reports human-rights violations against Kurds in Syria'. See especially: 'Report no.9'
The Rojava Report. See especially: 'Economy Minister interview'

Rojava sewing coop
ACADEMIC WRITINGS
P.J.White, The PKK: Coming Down from the Mountains
P.J.White, Primitive Rebels Or Revolutionary Modernizers?
A.Marcus, Blood and Belief. See especially ch.5-7 on the PKK's Stalinist origins.
M.Gunter, The Kurds and the Future of Turkey and Out of Nowhere
D.Romano, Conflict, Democratisation and the Kurds, ch.4 and 11

A.Ozcan, Turkey's Kurds

PYD leader Salih Muslim discusses military collaboration with US 'neocon' Zalmay Khalilzad.
POLITICAL OPINIONS
'Anarchist Federation statement on Rojava'
'The bloodbath in Syria: class war or ethnic war?' - Devrim Valerian
'Democratic modernity: era of woman's revolution' - Abdullah Ocalan
Inmates of a Rojava prison