Today it became apparent that with the constant spraying of teargas tainted with thinner, strikers are suffering from their skin blistering and peeling off with an extreme burning sensation. With no water in the occupied factory to wash off the toxins, it is becoming a severe health problem. There was also a tripartite meeting between government, Ssangyong management, and the union. The company bosses refused to negotiate until the occupation ends, stating that they won't back down on the layoffs.
Today, 24 July 2009, is Day Five of the battle over the occupied Ssangyong Motors factory at Pyeongtaek in South Korea.
Below is a diagram of the paint department, where most of the occupiers are now holed up. It describes the various flammable liquids that are stored on the 1st and 2nd floors (e.g. thinner, gasoline, diesel, etc.); there are 200,000 liters of these.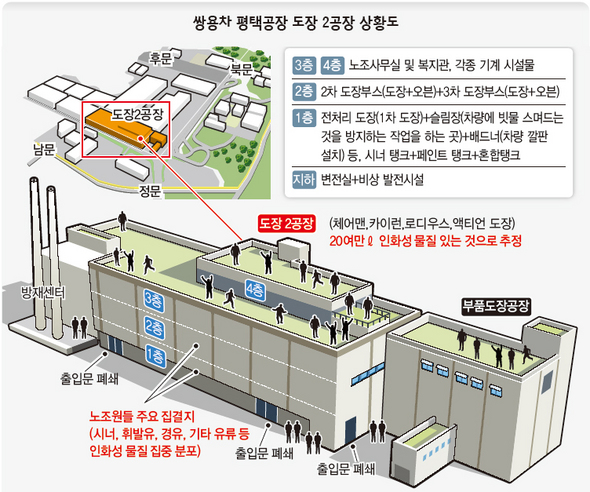 This afternoon a committee made up of the families of the factory occupiers staged a sit-in at the offices of the chairman of ruling party in their headquarters in Seoul.
Throughout the day the cops continuously sprayed toxic thinner-tainted tear gas from both helicopters and from armored watercanon trucks. The cops maintained positions of about 50 meters from the perimeter of the factory.
Strikers occupying the factory are suffering from the effects of the toxicity of the tear gas on their skin. It is still uncertain what the ingredients are, but they are obviously some kind of flammable liquid like thinner. With so much of this flammable liquid being dropped on the roof of the factory's paint department where most of the strikers are, it is an dangerous hazard should some spark set if off. When it contacts someone it causes severe burning and the skin to peel off. It is worried that if coming in contact with someone's eyes, it will cause blindness.
Photos from today of pigs dropping bags of toxic liquid from helicopter: